Steven VanDyke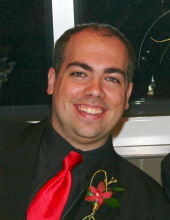 Steven Douglas VanDyke passed away unexpectedly this week at the age of 33. To say we are heartbroken is an understatement. Steve was loved by everyone that met him.
He had a passion for sports; and an obsession for all things Maize and Blue. Don't even bother talking to him if the game was on (or if they lost!). The Detroit Tigers were his other pride and joy but given this year's circumstances, he probably doesn't want me to talk about them.
In his free time, he enjoyed reading, playing intellectual board games (that he ALWAYS won) and trying out all the local Frisbee golf courses with his dad and brother.
He spent 5 years in Germany. In that time he was able to explore Europe. Join an ultimate Frisbee league. Go to many soccer games (or should I call it Fußball?). And eat more ice cream than anyone could dream of.
What he enjoyed most in life was spending time with family. Hands down his favorite people were his nieces and nephews (niephews as he affectionately called them). He was the world's best uncle! He wasn't afraid to be silly or outrageous. And he would do just about anything for his niephews (except change a diaper but can you blame him?). They will forever miss their Uncle Steve and all his magic.
Wir lieben dich Steve.
Please join the family for a gathering on Sunday, August, 13 from 4-7 pm at the Zaagman Memorial Chapel (2800 Burton St. SE, 49546). A memorial service will be held at the funeral chapel on Monday, August 14, 11:00 am, with Chaplain JoAnn Swart officiating.
To send flowers or a remembrance gift to the family of Steven Douglas VanDyke, please visit our Tribute Store.